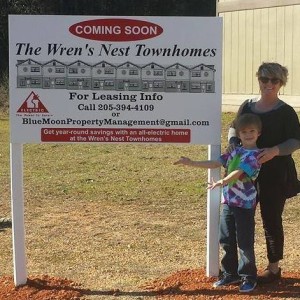 Owner, Nikki Evans, is a native of Tuscaloosa Alabama. She has owned a restaurant and sold real estate, but her passion is multifamily housing with a twist…..comfortable with quality finishes in small complexes.
Blue Moon Properties has evolved over the last 24 years from an old Victorian single family residence in desperate need of repair to the latest 12 unit townhome development called "The Wren's Nest". The townhomes were named after a story telling museum in Atlanta Georgia. Over the years, Nikki has learned about renovation, style, function, desirable locations and what Tuscaloosa County needs. The Wren's Nest Townhomes tell a story. We hope that people in need of a cozy, quiet "home" will find us and love living in our properties as much as we loved making them a home.
Once in a blue moon you FIND IT, a unique, thoughtfully designed living space, hence the name "Blue Moon Properties".